The most beautiful and picturesque lake in western Kyrgyzstan is the high-mountain lake Sary-Chelek, one of the main attractions of the Chatkal range. Sary-Chelek literally translates as a yellow vessel. The lake stretches from northwest to southeast for 7.5 km, at an altitude of 1878 m above sea level. The surface area of the lake is 4.92 sq. km. Its maximum width is 2.3 km, with the narrowest part of 350 m. The average width is 650 m. The maximum depth is 234 m. This is the third deepest lake in Central Asia.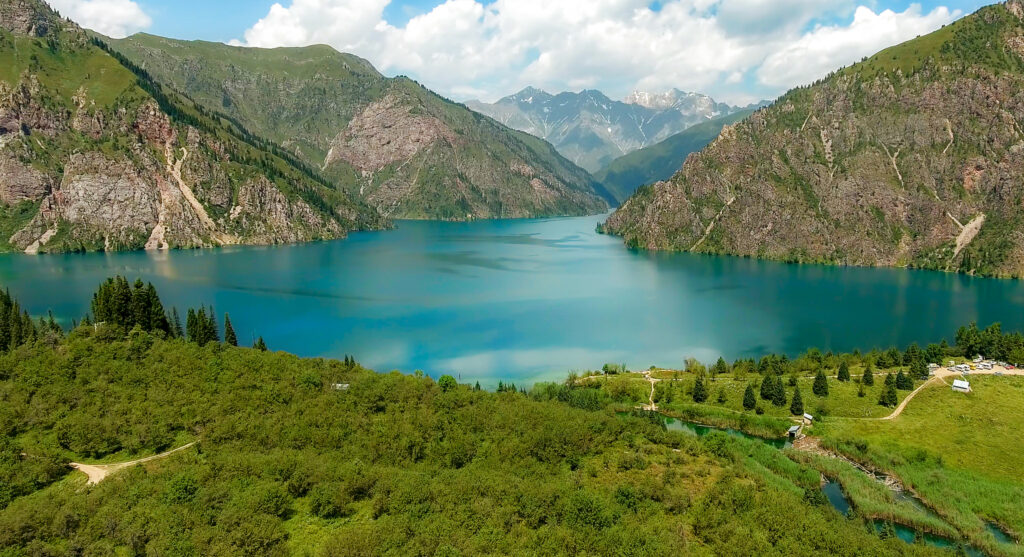 The shores of the lake are extremely picturesque. Steep or, more often, sheer cliffs descend into the water, stepping down into the depths. Because of the high transparency of the water, the rocks, going under the water, are seen at great depth. The color of the water in the lake is extraordinarily beautiful. When you look at the lake from above, it has a glowing dark blue color with a beautiful greenish hue. The northern shores are covered with large forests of slender spruces and firs. Not far from Sary-Chelek Lake there are several other small lakes like a Kyla-Kel, Bakaly-Kel, Iiri-Kel, Tuyuk-Kel, Choichok-Kel, and Aram-Kel. All of these lakes are the result of ancient rockslides, which dammed the river.
There is a guest house for 8-10 people on the shore of Sary-Chelek Lake. There is a hotel with comfortable rooms and hot water in the village of Arkyt, 17 km from the lake.
Trekking and horse riding in Sary-Chelek.
We are always happy to organize it for you. Be with you. It is one of the best places for easy hiking and horse riding. One of the main spot is the panorama where you can see all 7 lakes from above. Horses for rent is in Arkit Village. and for one day rent is approx. 15$.
(Pictures: by Jose Aragones, by Constantine Kikvidze, by Mohamed Elbangy )